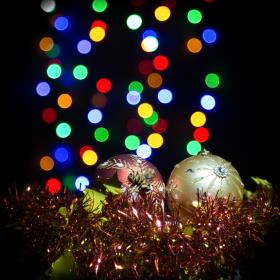 Christmas is a wonderous time especially when trying to creatively capture some of the magical light moments with your camera. Here's some ideas to help you obtain fantastic photos:
Firstly, you need to mount your camera on a tripod and ensure its stable and secure
A standard kit lens (18-55mm) will work with this effect but a slightly more powerful telephoto or zoom lens (80mm, 100mm or similar) will work even better
Arrange your scene to be photographed. Ideally, you need a darkened room with something like a Christmas tree with its lights on, at a distance of perhaps 10 – 15 feet or 3 – 5m away from the camera, or more if space permits. If you don't (yet) have a tree but have the lights try and secure these on a board or suitable fabric with pins or clips
Next, arrange a scene in front of the camera that's not too close but more than a couple of inches/cm away, especially important if using a telephoto type lens which can't usually focus at close range
The scene should consist of Christmassy items; colourful/sparkly tree baubles, small 'toy' presents, tinsel, a manger, leaves etc, a time to use your imagination!
Having turned on your camera select either the Aperture Priority exposure setting (AV on Canon & A on most other makes), or choose the Manual exposure setting
You need to select a low numbered aperture – perhaps f4 or f5.6 or a smaller number if available. The smaller the aperture number the better this creative will work
Whether using AV or Manual exposure providing you've set the exposure correctly, don't worry about a slow shutter speed as your camera is on a tripod, but do activate the delayed timer or use a cable release
Select a low ISO of 100 – 200. Do NOT leave the camera in 'Auto ISO' as the camera will choose a much higher number and spoil the effect and quality of your image
Now you need to focus on the scene close to the camera and allow for the lights in the background to be seen in your composition. You will note a couple of things:

1. the foreground is likely to be darker than needed (insufficient light) and;
2. the lights are blurred in the background showing the Bokeh (circles of light)

Whilst the second thing is desired, we are likely to need some additional light on your Christmassy scene for it to actually be seen! Therefore, use a small light (a small torch perhaps or a key fob) I've even seen people use the low light output from their phones!
By adjusting the light on your foreground scene to make it clearly visible without being too bright you will capture some incredible images 🙂
I've seen many of these since I began training on this technique and people often use them as Christmas cards or emails at this festive time of year. Merry Christmas!
I do offer feedback on photos so please try the 'Photo Evaluation' section within my App to have your image(s) judged and receive constructive feedback from a professional photo competition judge 🙂