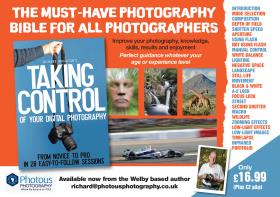 'Taking Control Of Your Digital Photography'
This book has been compiled by me after many years presenting my photo training courses and sessions to both large and small groups, and also one-on-one sessions, covering a myriad of different camera functions, techniques and genres. It is specifically written to help and guide photography enthusiasts at all levels of skill and knowledge to further improve, be challenged or simply enjoy their photography – this could be you, or someone you know!
The book contains 28 sessions and nearly 200 photos and images to assist with your understanding of each topic, and it provides you with lots of practical ideas and examples too. In addition, there is a comprehensive Glossary where each of the more common camera or photography-based word or phrase is explained.
The price for all of this is just £16.99 (plus £2 p&p to UK address) overseas addresses will be as per the rate for each country 😁👍
Whether you are just starting your photography journey, have been using cameras for many years, or anything in between, I am sure you will find this book a fantastic compilation of both supportive, instructional and enjoyable creativity, to explore even more about what you and your camera can achieve with your photography skills.
Best wishes, Richard Houghton
Photous Photography