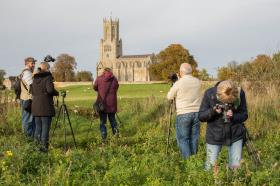 TRAINING COURSES
Would you like to learn more about photography and how to get more from your camera?
Photo training courses are available for both newcomers to photography and the more experienced photographers. They are held in or around both the Peterborough and Grantham areas. In addition, the 'Photous Academy Club' is also available to attendees of my training courses, please see the 'Academy Club' section for more exciting details.
There are now Eight types of photo training course available, plus a weekend of 'Photous Exploring Photography' course, where we leave the local area and head to either North Yorkshire or Suffolk.
Each regular course will involve the attendee participating in a variety of creative and fun activities to increase the learning experience. Five of the courses are spread over four weekly sessions and consist of a 3-hour hands-on training session. Plus, two of the courses are a full one-day programme, specifically designed for people who either want to photograph weddings or who seek to utilise the video functions on their camera. Light refreshments and hand-outs are also supplied on each course.
The next Wedding Photography Skills full day course will be held at my Welby studio on Saturday 19th September 2020 from 9:30am to 4:30pm. Please note: there will be models on this course acting as the Bride & Groom at a local church! It also includes a useful workbook, handouts and practical exercises to build your confidence and skills level – an amazing practical experience to savour.
Next weekly courses start on Saturday 3rd October 2020 at my own studio in Welby – places will of course be limited due to Covid-19! The Introduction Course at my studio starts: 9.30am to 12.30pm. Intermediate Course starts: 2pm to 5pm – both courses run on a Saturday. The City College Peterborough course dates have been postponed until 2021.
The next 'Advanced 1' photo training course is scheduled to be held at my studio in Welby for four weeks starting on Thursday 15th October 2020 from 7pm to 9:30pm. The range of sessions will be aimed at the more experienced photographer looking for ways to extend their photography skills and experience. Please see my website for more details.
============================
HOW TO BOOK YOUR COURSE
Digital Cameras
Wedding Photography
Video Production
Book your course by going to "Bookings", select your choice and enter your information.